Hand Unit Accessories
USING THE HAND UNIT ACCESSORIES

ROLLER ELECTRODES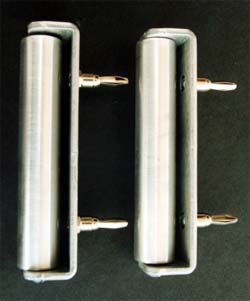 Roller Electrodes are primarily used for paneling, banding, moldings and selfedging out of plastics.

They may be applied directly to panels and rolled along 5-6 seconds per every 4-5" at whatever speed good set is obtained. Always use enough hand pressure to bring the wood joint together, otherwise the glue will be set but a weak joint will result.

When used on moldings they may be applied directly on the edge and, with sufficient pressure, rolled along.

When it is desired to do banding or selfedging with the roller electrodes, it is advisable to place a strip of plywood between the rollers and the edging material. This helps to hold the material down between the roller electrodes.
OUTSIDE MITER ELECTRODES Photo

The outside miter electrodes are used for any square or mitered corner. The miter electrodes are cut square and the joint to be welded may be positioned in the square, hand unit pressure applied and welded.

INSIDE MITER ELECTRODES Photo

The inside miter electrodes are used in these particular places where the outside corners are not easily reached.
SMALL SPECIAL ELECTRODES Photo
The small special electrodes are used to attain highr heat on projects wider than 2".