Instruction Video
QuickTime
Click CD Logo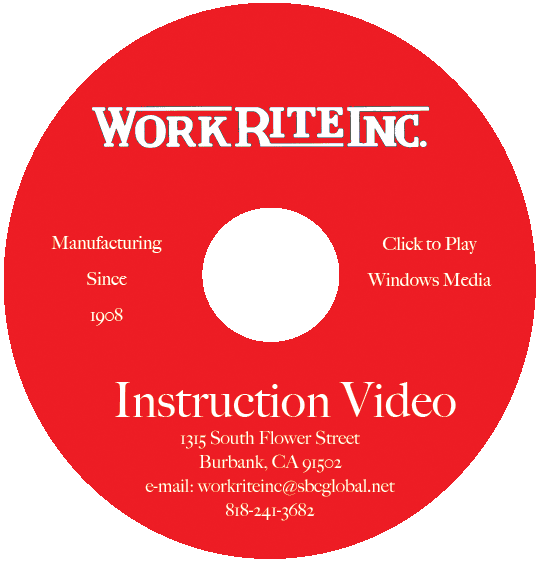 Model 3000
DISCONTINUED
TROUBLE SHOOTING THE WOOD WELDER
TROUBLE SHOOTING THE WORKRITE ELECTRONIC WOOD WELDER
Due to rough handling the hand unit may go out of tune. This will minimize the welder's energy output and cause arcing.
Tune hand unit to generator unit.
Holding the hand unit in the air (not on the wood), pull the trigger, and move thumb adjuster forward then backward.

Watch the milli-amp meter on the front of the welder. It should correspond with the thumb lever. Meter needle must move 10 milli-amps (between two divisions) to be in tune. If the needle moves more than two divisions, pull the 14-turn coil apart slightly. If needle does NOT move at all, push the coil together slightly.

DO NOT UNSCREW COIL. The 14-turn coil is located inside the hand unit box. No components within the hand unit should touch each other, as this will cause arcing and rob the power.

Coaxial cable from welder to hand unit should be inspected. The shielded woven ground on the outer part of the cable may be worn through or broken loose.

Connector center should be un-soldered and cable cut back.

Re-solder center portion and re-clamp outer woven grounded portion to the connector.

Hand unit must be tuned each time the coaxial cable is shortened.
COAXIAL CABLE MUST BE 13' IN LENGTH
Note: If after all these steps, the meter still gives low or no milli-amp reading, see WARNING BELOW: REMOVE POWER CORD FROM WALL BEFORE OPENING REAR OF CABINET OR REPLACING ANY PARTS. Remove the back of welder and depress interlock switch. Watch lower #866-A tubes. IN ALL MODELS PRIOR TO 1984, tubes should glow "blue" when the trigger is pulled. If the glow is not "blue" replace tube with a solid-state 866-S and rewire diagram. Late model 1984 and newer models have SOLID STATE 866-S and may not need replacement. These tubes do not glow blue. They appear as black posts.
BEWARE OF DANGEROUS ELECTRICAL SHOCK. REMOVE POWER CORD FROM WALL BEFORE OPENING REAR OF
CABINET, BEFORE REPLACING ANY PARTS OR PUTTING
HANDS INTO REAR OF CABINET.
Use a screwdriver with an insulated handle to ground any stored electrical charge. Touch screwdriver to inner condenser plate (connected to tube top) and at the same time touch outer condenser plate (screwed to chassis) to ground any stored electrical high voltage. Tube can then safely be replaced. EACH TIME MACHINE IS PLUGGED IN AND TESTED THIS SAFETY PROCEDURE MUST BE REPEATED.
Milli-amp meter goes to top of scale as soon as hand unit trigger is pulled.

See WARNING: REMOVE POWER CORD FROM WALL BEFORE OPENING REAR OF CABINET OR REPLACING ANY PARTS.

Pull the trigger and watch the upper #810 tubes. Look for tube glowing red, arcing, filament burned out. Even if there is no visible symptom, replacement of the #810 tube may be required.
NOTE: If welder is operated with one faulty #810 tube, it will over work other tubes, which could also become inoperative. All trouble shooting is done in conjunction with the milli-amp meter. Watch meter from time to time to avoid extensive repairs. Your welder is a push/pull type circuit. Trigger should be released - the same amount of time as it is depressed. Complete your project. Set the hand unit down and position your next project. This will insure longer tube life. Spot-weld your assembly - 5 seconds will set the glue properly. Longer periods will overheat the glue and be less adhesive.
Instruction Video
Windows Media
Click CD Logo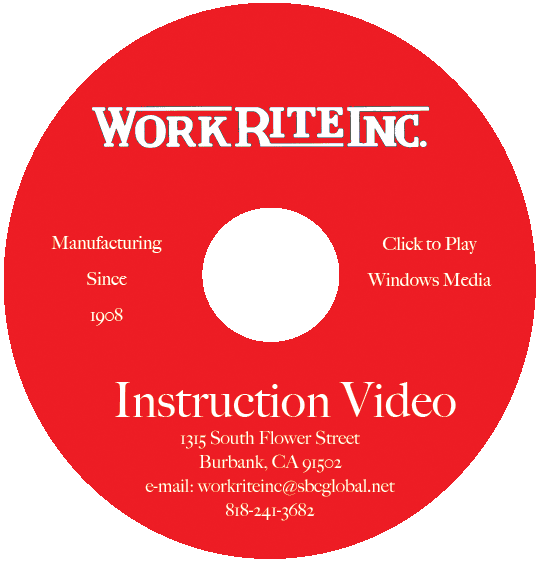 Model 4000
DISCONTINUED