Picture Frames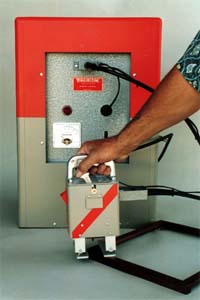 HOW TO DO PICTURE FRAMES
Picture frames may be welded in a picture frame clamp or in a home made wooden jig. If the pressure applied to the picture frame joint is tight the heat produced will set the glue in about 3 seconds.

Hold electrode feet across the glue line, usually in the medium or large gap position, and apply the electronic heat. Do not over heat the joint - it will hold better if heated for a short time, 3 to 5 seconds.
NOTE: The above method of welding a picture frame is satisfactory, in so far as setting the joint. However, we feel that the additional wooden spline or dowel will add to the strength of the joint and will insure better squaring of the frame during fabrication.